SIPS Music & Arts Music Centre
Joining and being part of an ensemble is an exciting oppourtunity for all who play an instrument. At SIPS Music and Arts musicians will have the opportunity to be part of a variety of ensembles rehearsing weekly during term time and performing regularly.
To be part of a music centre ensemble we ask that everyone completes the consent form to provide contact details and other infomation as well as completing the music centre membership payment. Please note payments are processed through 'The People's Box office'.
Links to all pages can be found using the buttons below.
If you require any further assitance please contact us on 0121 296 2997 or email us at music.arts@sips.co.uk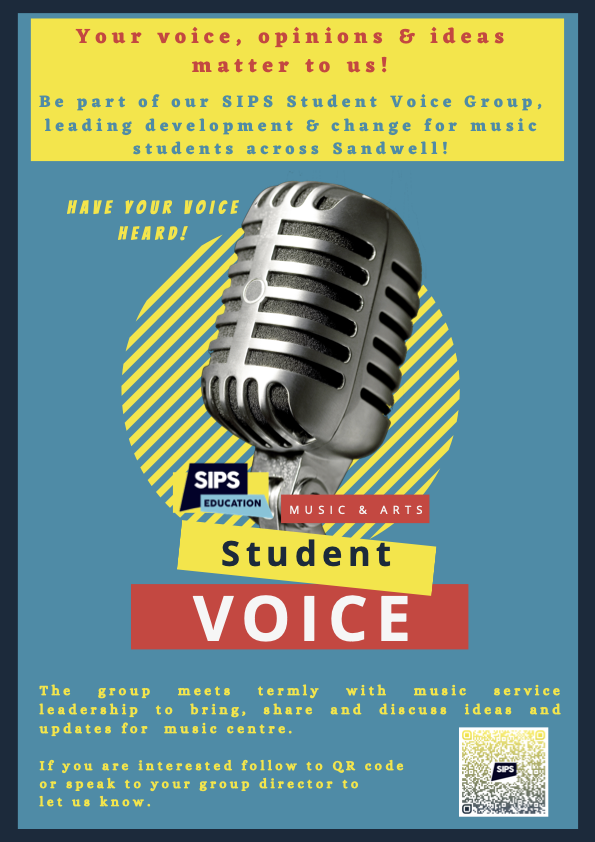 Your voice, opinions & ideas matter to us!
Be part of our SIPS Student Voice Group, leading development & change for music students across Sandwell.
If you're interested let us know using the button.
Dates for your Diary
Spring term 2022
Monday 28th March – Spring Together 1 (Concert at Shireland Collegiate Academy)
Tuesday 29th March – Spring Together 2 (Concert at Shireland Collegiate Academy.)
at Shireland Collegiate Academy.
Tuesday 5th April – 'Gig Night' at Splinter Studios
Summer term 2022
Monday 25th April – Rehearsals resume
Monday 2nd May – No rehearsals (Bank holiday)
28th May-4th June – No rehearsals (Half term)
Saturday 9th July – Summer Festival Day
July – SIPS Music Centre Awards Night
SIPS Education Music & Arts Service Guardian House Cronehills Linkway West Bromwich B70 8GS Privacy Policy