SIPS Music & Arts Music Centre
Happy New Year!
Music Centre's are open again from Saturday 8th January and we're looking forward to
welcoming musicians back to Guardian House and Splinter Studios for rehearsals this term.
Joining and being part of an ensemble is an exciting oppourtunity for all who play an instrument. At SIPS Music and Arts musicians will have the opportunity to be part of a variety of ensembles rehearsing weekly during term time and performing regularly.
To be part of a music centre ensemble we ask that everyone completes the consent form to provide contact details and other infomation as well as completing the music centre membership payment. Please note payments are processed through 'The People's Box office'.
Links to all pages can be found using the buttons below.
If you require any further assitance please contact us on 0121 296 2997 or email us at music.arts@sips.co.uk
Important Dates
Music Centre 2021-2022
Ensemble rehearsal times
Guardian House
Monday
18:30-20:00 Monday Strings (Mini maestros & intermediate Strings)
Tuesday
17:30-18:30 Junior Jazzers
18:45-20:15 Intermediate Concert Band
19:00-20:30 Youth Concert Band
Thursday
18:30-20:15 Intermediate Brass Band
18:45-20:30 Youth Brass Band
Saturday
9:15-11:15 Saturday Strings (Training Strings & Youth Orchestra Strings)
Splinter Studios
Tuesday
16:00-17:00 Ukulele Rocks band
17:15-18:15 Band Together
18:30-20:30 Tuesday Coffee Social, Rock School
Portway Lifestyle Centre
Wednesday 
17:30-18:30 Big Top Band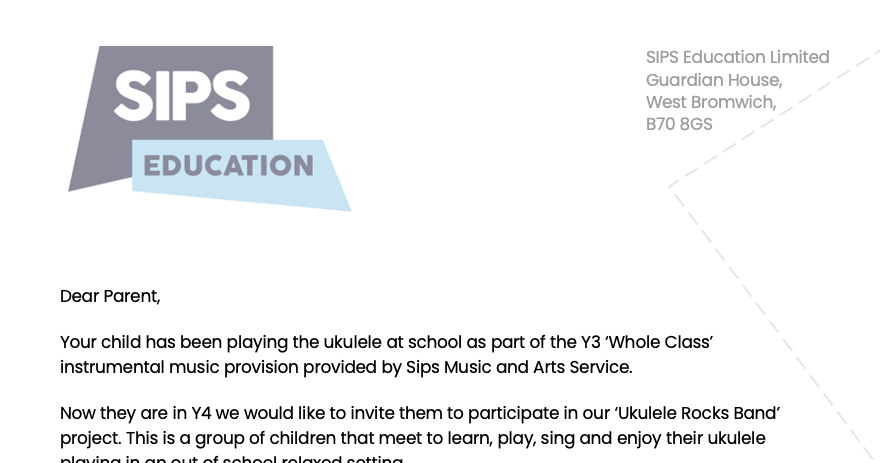 Letter to all music centre members, parents and careers about music centre reopening week beginning Monday 27th September 2021.
SIPS Education Music & Arts Service Guardian House Cronehills Linkway West Bromwich B70 8GS Privacy Policy