Musicians, you are invited to take part in a new 'Concert Orchestra' intensive project made up of two rehearsals and a concert. To be able to make the most of the course attendance at all three dates is highly recommended.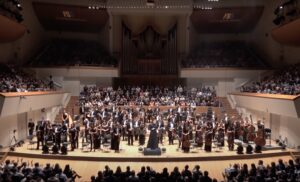 Rehearsal 1: Saturday 10th June – 9:00-12:00
Rehearsal 2: Saturday 24th June – 9:00-12:00 (rehearsal arrival from 8:45 for 9:00 start)
Concert: Saturday 8th July as part of the Summer Festival Celebration.
Rehearsals will be a combination of sectional rehearsals focused on instrument family specific support as well as full orchestra rehearsal. Repertoire will be a combination of film, popular and orchestral music.
The ability level recommend for the course is grade 3 ability and above and music will be shared ahead of the first rehearsal. If you are unsure if you should attend please speak to your instrumental teacher or contact us on music.art@sips.co.uk / 0121 296 2997.
To sign up for this opportunity please complete the form below.
This will be a fantastic opportunity and we look forward to welcoming musicians to take part.
Sign up using the form below for the Concert Orchestra