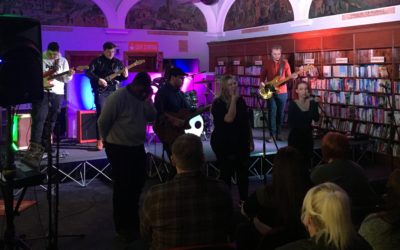 Tuesday 26th November Well done to all the students involved in our fantastic Rock and Pop showcase at West Bromwich Library last month! The ukulele rocks! group performed a wonderful trio of rock n' roll classics, 'Shake Rattle and roll', 'Rock around the Clock', and...
The latest news from Sandwell Music Education Hub
Find out more about the activities of our hub by reading the stories below:
SIPS Community Bands are open to all musicians leaning an instrument at school as an early opportunity to experience the joy of playing with a group of likeminded musicians. On Wednesday 22nd March the community band who rehearse at Thimblemill Library took to...
read more
featuring Big Top Music, Westminster School, Orchard School and SIPS Music & Arts String ensemble.Wednesday evening saw Big Top Music, Westminster School and Orchard School perform a live concert, supported by SIPS Music. Guest were welcomed in by a violin...
read more
featuring the Training String Orchestra, Intermediate Concert Band, Intermediate String Orchestra and Youth Brass Band.Tuesday 21st March 2023 saw the second of the two spring concerts at Shireland Colleigate Academy Theatre, 'Springtime Music'. By 18:20 there was...
read more
featuring the Youth Concert Band, Mini Maestros, Jazz Orchestra and Intermedia Brass Band.Monday 20th March 2023 saw the first of two concerts at Shireland Colleigate Academy Theatre, 'Spring into Music'. After hectic and rainy journeys all groups were full of energy...
read more
Monday 13th March 2023 was the first of what we hope will become annual event the 'Acoustic Vocal Recital'.  The evening saw a capacity audience in the beautiful surroundings of West Bromwich Central Library.   The programme featured 14 solo items from pupils and...
read more
We have created and compliled a selection of musical resources to help you celebrate women's history month in your school!
read more