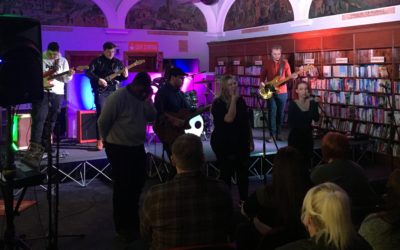 Tuesday 26th November Well done to all the students involved in our fantastic Rock and Pop showcase at West Bromwich Library last month! The ukulele rocks! group performed a wonderful trio of rock n' roll classics, 'Shake Rattle and roll', 'Rock around the Clock', and...
The latest news from Sandwell Music Education Hub
Find out more about the activities of our hub by reading the stories below:
SIPS & SHAPE art project 2023. Our students have worked with The Sandwell Cultural Education Partnership (SHAPE Summer Festival) team to create a multimedia performance mixing music and art. The artwork below has all been created from the prompt "What does music...
read more
Tuesday 17th of July 2023 (Article by Jonathan Dixon) On Monday, in partnership with SIPS Music & Arts, Q3 Academy Great Barr welcomed University Band 'Jazz Legacy' from Brigham Young University, Utah in the United States during their visit of the UK during the...
read more
On Tuesday the 11th of July, SIPS Music and Arts held our first year Six to Seven changeover event, aimed at children who are moving to secondary school in September. (Article by Mr Beer)Once all the attendees had arrived, we began by meeting, greeting and finding out...
read more
Rock band experience at Splinter Studios for pupils at two Wednesbury Primary schools. Tuesday 11th July 2023 On Tuesday 11th July St John's C of E Primary Academy and Holyhead Primary Academy spent the morning at Splinter Studios, Wednesbury. This was to give them...
read more
Sandwell's Got Talent Monday 10th July 2023 Article by Brian Cape (Chief Executive Officer, SIPS Education)The historic West Bromwich Library was the setting for our final recognition night of the term, and this time it was our pleasure to be handing out the awards....
read more
Summer Festival Saturday 8th July 2023 Saturday 8th July saw music centre groups return to the Oak House for the annual Summer Festival. The day started around 9:00 when music staff arrived to setup the grounds ready for the performances.  'What will the weather do?'...
read more